You like to cook with lemon and want to have it always quickly at hand? And you want it to be durable? We have an ingenious lemon salt paste from the Thermomix® for you!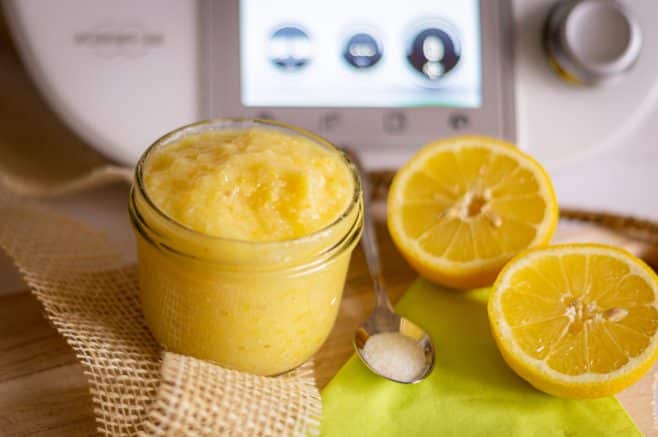 What is lemon salt paste, anyway? You can think of lemon salt paste as our garlic base. Use the paste in any recipe where you want to use lemon zest, lemon juice or a pinch of salt.
Since lemons are super healthy, they boost the immune system, activate the digestive system and have an antibacterial effect.
For the preparation of this recipe, you should definitely use untreated lemons. The peel goes into the jar with them. It is best to use untreated organic lemons. Here you can be sure that they do not contain sprays.
It makes your everyday life incredibly easier. Because it often happens that lemons are moldy or rotten just when you need them.
Use the seasoning paste for sauces, pastries, stews and casseroles. The paste goes very well with fish. We have a recipe for you here, too. Enjoy our lemon garlic fish from the Thermomix®. If you're wondering, cakes and pastries usually have a pinch of salt in them.
If you always use a clean spoon to take the lemon paste, the lemon salt paste will be good for up to a year. This prevents germs and bacteria from getting into the lemon seasoning paste via the unclean spoon, causing it to spoil. Also, cut away any rotten or overly soft spots from the lemons before adding them to the mixing bowl. The salt preserves the lemon. If the paste turns a little darker during storage, it is not a sign that it has gone bad.
If you want to mix the lemon spice paste into a liquid, stir it with a little water. Then it will spread better and there will be no lumps.
Looking for more recipes with lemon? How about Varoma lemon garlic fish, lemon cake, lemon sheet cake, lemon ginger syrup, lemon peach pie, lemon lemonade or a sweet lemon dessert?
Thermomix® Lemon Salt Paste
The perfect, durable lemon base for seasoning.
Ingredients
270

g

lemons

untreated

35

g

Salt
Instructions
Wash lemons well with hot water, quarter, (remove seeds) and add to mixing bowl.

Add the salt and grind for 5 seconds/step 5.

Push down with the spatula, mix for 10 seconds/level 8. Push everything down again and mix for another 10 seconds/level 8.

Pour the paste in a sterilized canning jar and store in the refrigerator.
Notes
Tip: For a larger quantity of lemon paste, you can double the ingredients.
You can also prepare the paste with limes.
Nutrition facts
Serving:
1
Portion
Calories:
78
kcal
Carbohydrates:
25
g
Protein:
3
g
Fat:
1
g
Saturated Fat:
1
g
Sodium:
13571
mg
Sugar:
7
g
Vitamin A:
59
IU
Vitamin C:
143
mg
Calcium:
79
mg
Iron:
2
mg