Get ready for 1700 grains of delicious, warm, and fluffy rice pudding. This rice pudding is decorated with fresh fruit and a touch of chocolate sprinkles – who doesn't love that? As a main course or dessert, rice pudding from the Thermomix® suits every taste!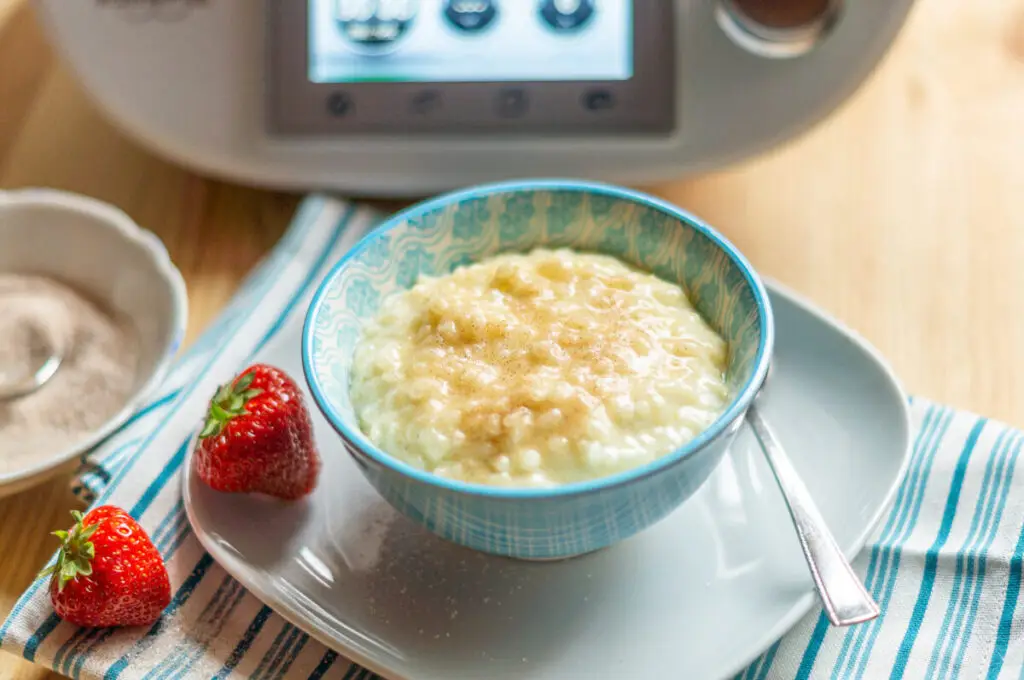 Table of Contents
That smell in the kitchen when grandma had delicious rice pudding on the stove again, brings us right back to childhood. Rice pudding not only enchants the little ones within us, it also brings a smile to the faces of adults with its sweetness. But why is rice pudding so popular? We will tell you why, and also let you in on why rice pudding will enrich us in the future!
What exactly is "rice pudding" anyway?
-> Rice pudding – Thick rice which is also called rice porridge.
With over 100,000 varieties of rice, the question arises – which type is best suited for this sweet dish? And what exactly is rice pudding made of anyway? Here are the three categories: long-grain, medium-grain and round-grain rice.
The rule of thumb is: the rounder the grain, the more starch it contains and thus the softer the grain becomes when cooked. Accordingly, the "round grain rice" is best suited for the preparation of rice pudding. Long grain rice such as jasmine and basmati are the least suitable for making rice pudding. The grains do not release enough starch, requiring additional starch to be stirred into the hot milk to thicken it. The long grain rice remains rather hard and does not achieve the typical sticky quality of rice pudding.
But which rice variety is actually hidden behind the name "rice pudding"? One of the best-known and most commonly used types of rice is "Arborio", which is sold as broken rice under the name "rice pudding" in supermarkets. The broken rice grains become very soft under high heat, releasing plenty of starch into the milk. This gives our dessert a creamy soft consistency.
Rice pudding – A ritual?
Sounds crazy – but it's not. Rice pudding is part of the Scandinavian Christmas dinner. Yes, that's right. In Germany, rice pudding is considered a quick, delicious and simple snack, or dessert. Additionally, it is not often considered to be anything too spectacular. In Sweden, Denmark, Iceland, Finland, Norway and the Faroe Islands, this dessert is an integral part of the typical Christmas meal. In Scandinavia, people then eat rice pudding with ground cinnamon and douse it with milk or fine fruit pillows. Hmmm Heavenly 🙂
According to a legend, on Christmas Eve a little bowl of rice pudding should be placed in the barn for the elves who help in housekeeping. If you do not do this, the legend says, the elves will be upset.
But there's more – the Scandinavians have yet another rice pudding custom in store:
When rice pudding is on the table at noon, the rice pudding bowl usually contains an almond. Traditionally, everyone takes something from the bowl with a spoon, on his/her plate. The one who gets the almond on his/her plate, according to popular belief, gets married the very next year.
Often this custom is celebrated simply as a "game" for the children. Adults traditionally make sure that the youngest child at the table finds the almond. If the child finds the almond on the plate – they win a little toy.
We think this is a really fun and cute tradition that is sure to bring a lot of fun to any table 🙂 Try it out at home with your family or friends!
Can rice pudding be made without milk?
Can you make rice pudding without lactose, sugar and gluten? Yes, absolutely! Do you live a vegan lifestyle or have lactose intolerance? Well if so, you may have had to live without delicious rice pudding until now. Now, you can finally strike again! Rice pudding with plant milk contains no animal ingredients and still tastes great. Replace the cow's milk with coconut milk or lactose-free UHT milk. Instead of sugar, add a teaspoon of honey and whoosh, you've got a healthier version of this rice dish.
Thermomix® rice pudding: So simple – so incredibly delicious
As soon as you hear the words "rice pudding", you may think of a quickly and easily prepared dish for fit for all tastes. But today you will learn that the dessert has so much more to offer than being simply and quick and easy treat.
In the classic way, you can of course use regular whole milk to bring a round, rich milky flavor to the dessert, like grandma's rice pudding.

These days, we have so many ways to enhance this creamy, soft dish into a real taste sensation. Instead of mixing the rice with milk as usual, try using coconut milk. The coconut milk gives your rice pudding a wonderfully exotic note. Craving a more of a Caribbean flavor? Serve your coconut milk rice with fresh mango or pineapple pieces! Heavenly delicious!
The sweet flavor of soy, almond or oat milk also perfectly complement the rice.
If you want to cook rice pudding without sugar, we can recommend Xucker light.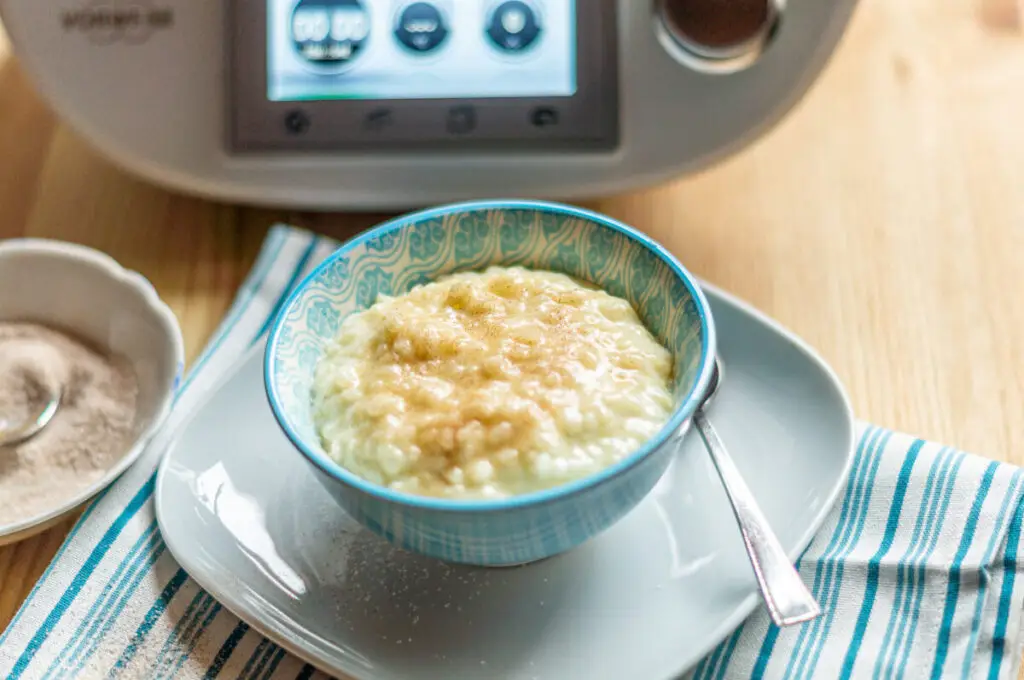 Ever heard of Risalamande? We guess that you haven't! Risalamande is a luxurious rice pudding variant from Denmark. With this culinary delicacy, the finished rice pudding is mixed with whipped cream and chopped almonds and then topped with warm cherries. In Sweden, by the way, the dish is called "ris a` la Malta" and in Norway it is known as "riskrem".
Helpful tricks for rice pudding from the Thermomix®
Are you in the mood for a delicious, quick and easy dessert? But you don't have any rice pudding at home? No problem. Our tip: Just use sushi rice – also a round grain rice, which gives off a lot of starch and gives the rice pudding a sticky consistency.
How do I know the correct proportion of rice to milk? In a nutshell, the ratio is 1:4, which means, for example, 250 g of rice is cooked with 1 liter of milk.
What to do if you find that your rice pudding is much too thick? Simply add some milk to the mixing bowl little by little until you like the consistency.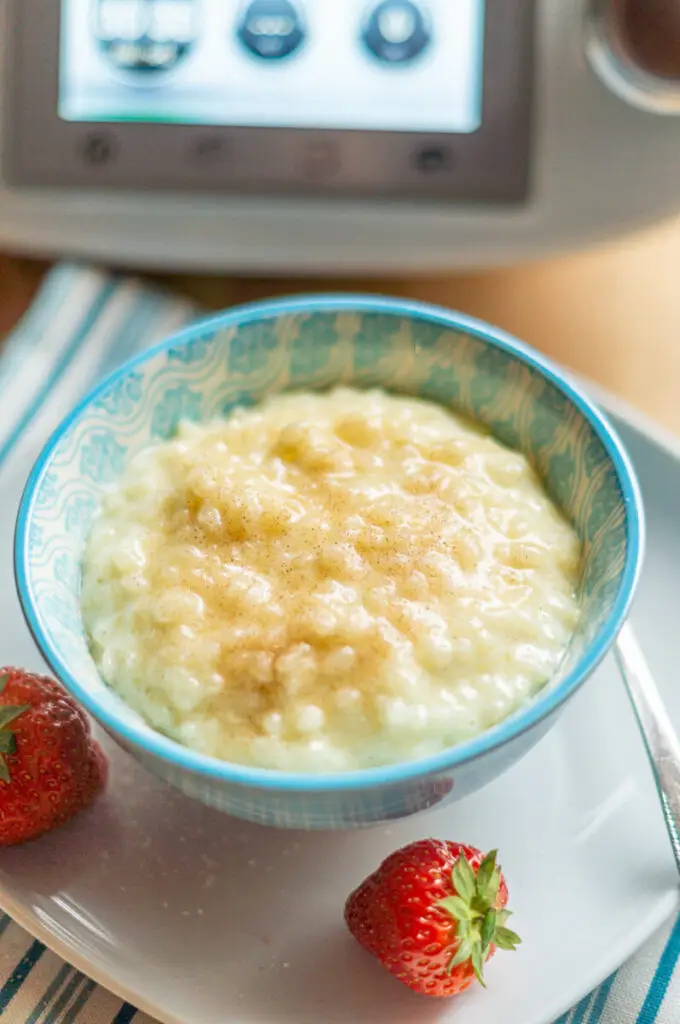 Perfect Thermomix® Rice Pudding
One of the most popular recipes for the Thermomix® is rice pudding! Why? Because it simply can't burn when cooked in the Thermi. Yummy! Try the recipe in TM31, TM5® or TM6®!
Ingredients
1000

grams

milk

3.5 % or 3.8 % fat

150

grams

cream

250

grams

rice

50

grams

butter

80

grams

sugar

2

tsp

vanilla sugar

1/2

tsp

salt
To sprinkle
2

tbsp

sugar

1/2

tsp

cinnamon powder
Instructions
Add all ingredients to the mixing bowl and cook for 45 min./90 °C/left rotation/speed 1.

1000 grams milk,

150 grams cream,

250 grams rice,

50 grams butter,

80 grams sugar,

2 tsp vanilla sugar,

1/2 tsp salt

Transfer the rice and let it set for another 10 minutes.

Mix cinnamon and sugar and sprinkle over rice pudding before serving.

2 tbsp sugar,

1/2 tsp cinnamon powder
Notes
Tip: If you want to save calories, simply omit the cream and butter. If the rice pudding is too thick, stir in more milk.
Nutrition facts
Serving:
1
Portion
Calories:
644
kcal
Carbohydrates:
87
g
Protein:
13
g
Fat:
27
g
Saturated Fat:
16
g
Sodium:
249
mg
Sugar:
37
g
Vitamin A:
974
IU
Calcium:
323
mg
Iron:
3
mg