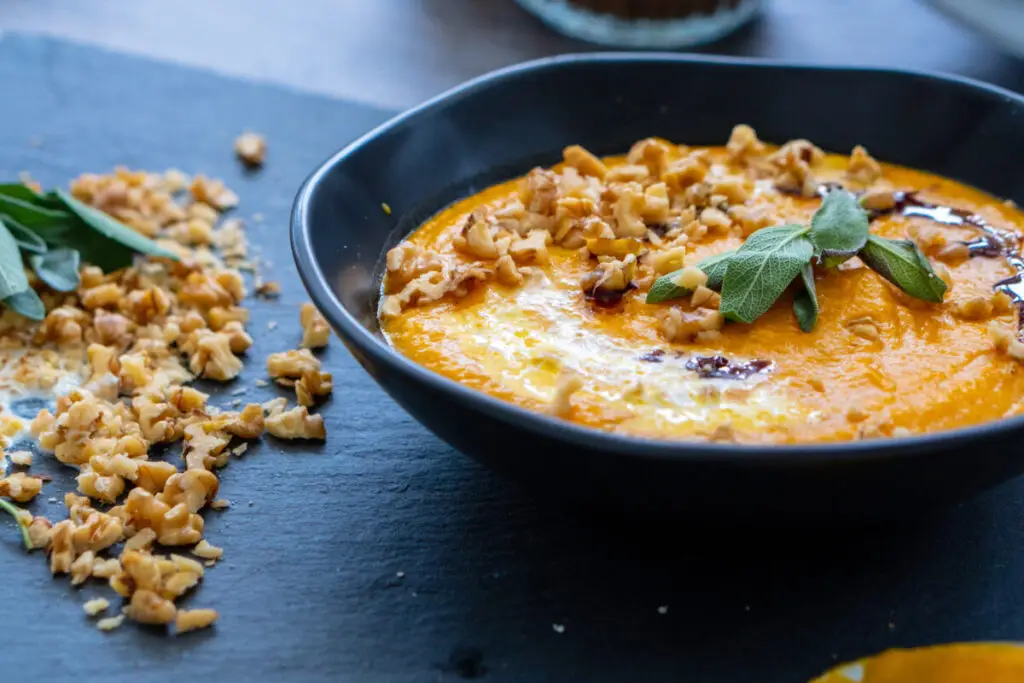 Feel-good time starts when there is pumpkin soup from the Thermomix® again! With this recipe, you can even lure any pumpkin lover to the kitchen! We have written down 5 variations of this recipe for you. With so many possibilities, you can turn this soul food into an irresistible taste experience!
This pumpkin soup from the Thermomix® is just the thing to counteract the cold wind of autumn. This special vegetable can not only be used for fun Halloween decorations, but you can also conjure up delicious soups from it.
Of course, it's especially fun during the Halloween season when your kids are allowed to scoop out the pumpkin beforehand. A pumpkin can be kept chilled (in the refrigerator) for 2 to 3 months. Make sure, however, that the pumpkin doesn't have a soft or damaged spot anywhere on its shell. Because these marks shorten the shelf life enormously.
When does the pumpkin season start?
Pumpkin is a traditional autumn food. However, due to good storage of the pumpkin species, you can often get pumpkins from domestic cultivation well into the spring.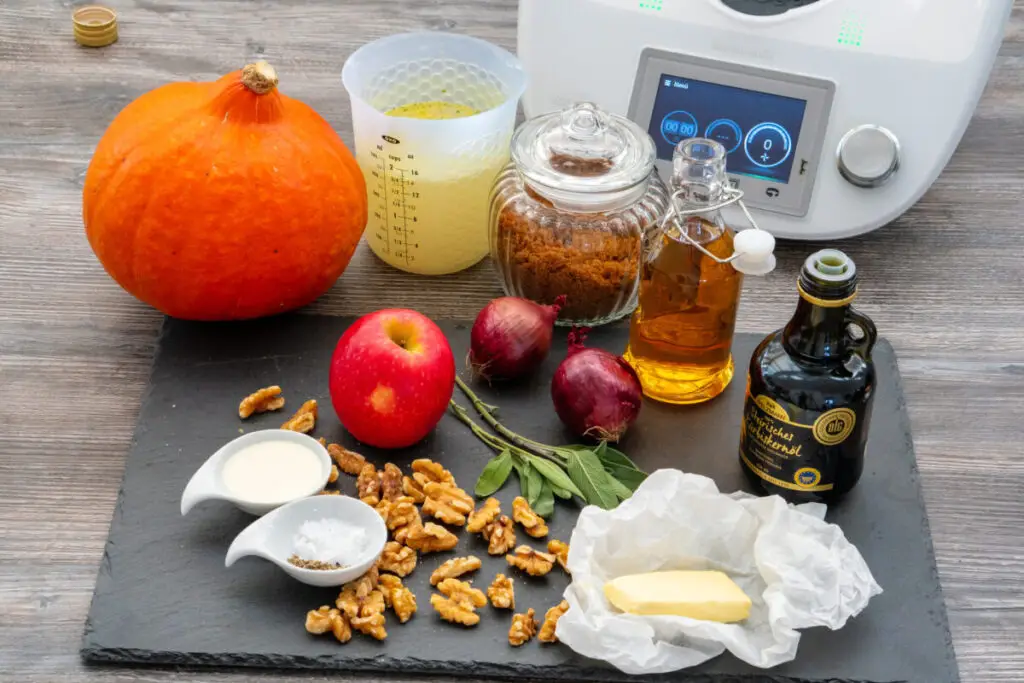 Pumpkin soup from the Thermomix – our recipe ideas for you
Still have pumpkin pulp left? Where should you put the excess? Simply freeze the pulp and you can use it optimally for your next pumpkin soup from the Thermomix®. Take note: in the refrigerator, the cut pumpkin can only be kept for about a week. To be well prepared for the upcoming pumpkin season, we have developed an ultimate recipe for pumpkin soup from the Thermomix® with 5 different variations!
Best Ever Thermomix® Pumpkin Soup
You can make this soul food soup in TM31, TM5® and TM6®.
Ingredients
500

grams

Hokkaido pumpkin

2

red onions

30

grams

butter

1

apple

2

branches

sage

10

grams

sugar

1

tsp

salt

1/2

tsp

pepper

30

grams

apple vinegar

400

grams

vegetable broth

2

tbsp

cream

2

tbsp

pumpkin seed oil

1

handful

walnuts
Instructions
Wash the pumpkin, remove the seeds and cut into pieces.

500 grams Hokkaido pumpkin

Peel and halve the onions, place in the mixing bowl, chop for 3 sec./speed 5 and push down with the spatula.

Add butter and braise for 2 min./120 °C (TM 31 Varoma) speed 1.

Meanwhile, peel the apple, cut into quarters and remove core. Wash the sage.

Add apple, pumpkin and sugar to mixing bowl and sweat for 3 min./100 °C/speed 1.

500 grams Hokkaido pumpkin,

1 apple

Add salt, pepper, vinegar and broth to the mixing bowl and cook for 27 min./90 °C/speed 1.

Puree the soup for 30 sec./speed 8. To serve, add a blob of cream to the soup and drizzle with pumpkin seed oil. Garnish the soup with walnuts and sage leaves.

2 branches sage,

1 tsp salt
Nutrition facts
Serving:
1
Person
Calories:
156
kcal
Carbohydrates:
24
g
Protein:
2
g
Fat:
7
g
Saturated Fat:
4
g
Sodium:
555
mg
Sugar:
14
g
Vitamin A:
11066
IU
Vitamin C:
17
mg
Calcium:
42
mg
Iron:
1
mg
Preserve pumpkin soup and reduce it
With the canning method, you can keep your soup for 8 to 12 months. Make sure it is stored in a dark, dry, and cool place. Please replace all dairy products in your soup such as cream, butter and crème fraîche with plant-based alternatives before boiling down! For example, replace butter with oil. This is how it works:
Time required: 2 hours and 30 minutes.
Reduce the pumpkin soup
Fill pumpkin soup. Cook your pumpkin soup and fill it into previously sterilized screw-top jars while it is still hot. These are boiled with the lid in water for several minutes to kill any germs. Close the lid of the screw jars and turn them upside down.
Put in the oven. Fill a drip pan or other heat-resistant container about 2 cm with water, place it on the lowest level of the oven and place the screw-top jars evenly distributed in the water. Set the oven to 175 ° C top and bottom heat.
Reduce temperature. After about 30 minutes, reduce the temperature to 150 ° C as soon as bubbles rise in the jars. Let the jars simmer in the oven for another 90 minutes.
Turn off the oven and let the jars sit for another 30 minutes. Please keep the oven door closed.
Serve the soup with a fried scallop and baguette, or try homemade croutons as a topping.
Another delicious variation is the "Halloween soup" with shrimp. To do this, just before serving, add a pack of prawns to the soup in the mixing bowl and heat for 1 minute / left on. Tip: for skewered shrimp, use lemongrass as a skewer – a real eye-catcher!
For the spice lovers among us, our ginger pumpkin soup from the Thermomix® is a must. In step 2, instead of the spring onions, simply add 1 cm of peeled ginger to your mixing bowl and chop it for 3 seconds / speed 8.
Coriander, coriander! At the beginning, chop half a bunch of fresh coriander in your Thermomix® (3 seconds / level 8). Before serving, garnish the soup with the chopped coriander. Yes! Now have a healthy bowl of soup!
For a fruity pumpkin soup, put applesauce in the mixing bowl before pureeing.
Questions and answers about pumpkin soup
Can I actually eat the skin of a pumpkin?
With the Hokkaido variety, you can easily eat the skin and cook it in your recipes. Only remove the root and very hard parts of the shell as well as the seeds. The seeds can be roasted in a coated pan without oil. The skin of the butternut and nutmeg squash is also edible. However, it is very hard and takes a long time to cook until soft.
How long does your freshly cooked pumpkin soup keep?
After cooking, put the soup in an airtight container as quickly as possible. We recommend a heat-resistant food storage container. Let cool in the pan, then put in the refrigerator right away. It is important that the soup does not stand around unnecessarily long at room temperature. This means that germs have less chance of multiplying. Please always put fresh herbs on the plate when serving, as they can also stimulate the production of germs.
Which types of pumpkin are suitable for pumpkin soup?
We recommend the Hokkaido pumpkin. It doesn't have to be peeled, so it doesn't produce too much waste. Butternut and nutmeg pumpkins are also great for pumpkin soup. However, the shell of the butternut and nutmeg pumpkins should not be processed. As squash vegetables, butternut squash goes perfectly with meat dishes.
Which toppings are suitable for my pumpkin soup?
Try topping the cream soup with sunflower seeds or pumpkin seeds to add a bit of crunch. You can roast these in a coated pan without oil while the soup is boiling in the Thermomix®.
How do I best season and refine my homemade pumpkin soup?
As spices to refine your pumpkin soup, we recommend nutmeg, cumin, chili, curry, ginger, garlic, pesto (basil pesto or wild garlic pesto) and pumpkin seed oil.
What's a good way to serve the soup?
If you're expecting guests, serve the pumpkin soup in a hollowed-out pumpkin half. Your visitors will be amazed!
How can I cut a hard pumpkin more easily?
Place the pumpkin in the oven preheated to 100 ° C for half an hour before cutting. It will become buttery soft and much easier to chop and cut.
Can I cook pumpkin soup without the Thermomix?
Yes, cook all the ingredients in the pot and puree them with a blender.
Also try our pumpkin baked chicken, pumpkin risotto, quick pumpkin vegetables, and the pumpkin crispy lasagna.