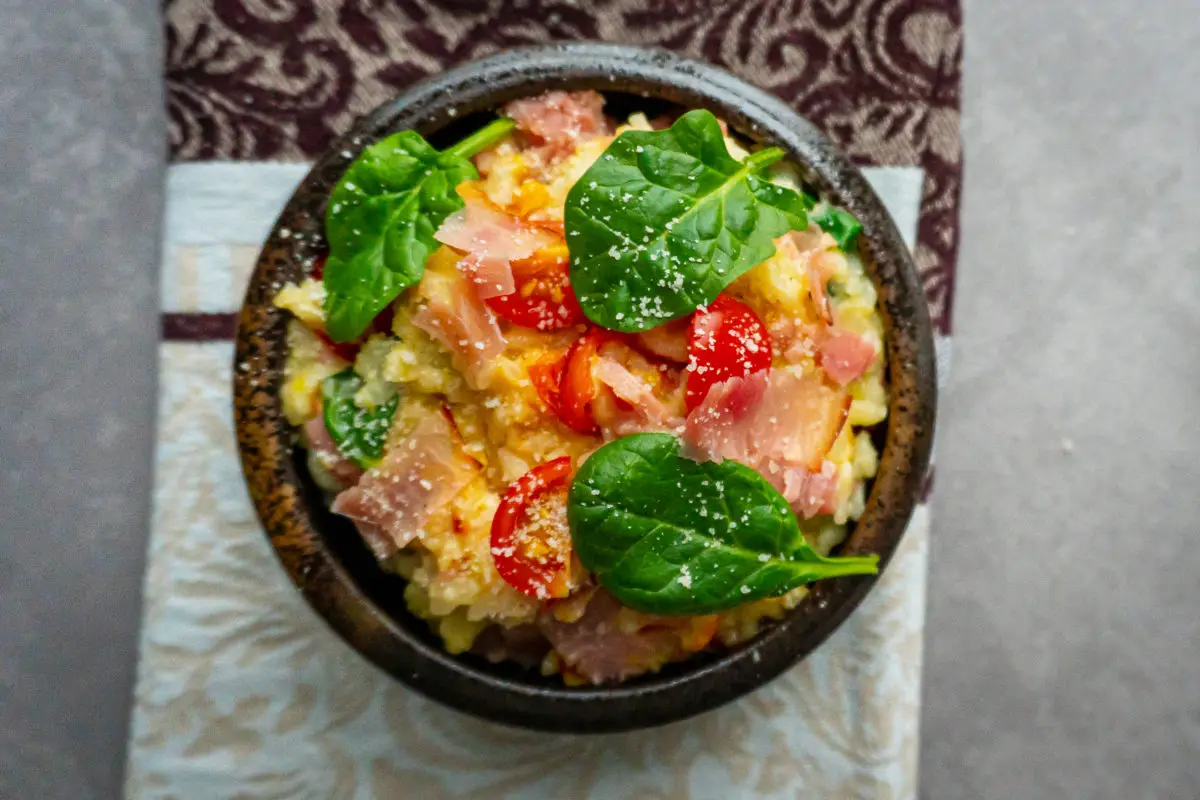 This delicious Italian rice dish will simply blow your mind and have you second guessing that it was all perfected right in your Thermomix®! Above all, this recipe impresses with its freshness and the ease of preparation.
Always a good idea
Traditionally, risotto in Italy is served as a 'primo piatto', or the 'first main course'. But no matter whether you make it as a main course or as a side dish, you will always get it right. If you choose to have it for as a meal for yourself or for the family, you are sure to be left well pleased as it is one of our most stunning recipes from the Thermomix®!
And this is how it's done:
We'll show you that you don't have to be a real Italian to conjure up a perfect risotto. We guide you step by step in making this great Ham Risotto from the Thermomix®. With just a few fresh ingredients such as tomatoes, spinach, and garlic, your ham risotto will be a hit at your next meal.
The rice dish tastes best fresh from the Thermomix®, because over time, it loses its creamy consistency. By the way, did you know that risotto has been in the kitchen in Italy since the Renaissance? That's over four hundred years!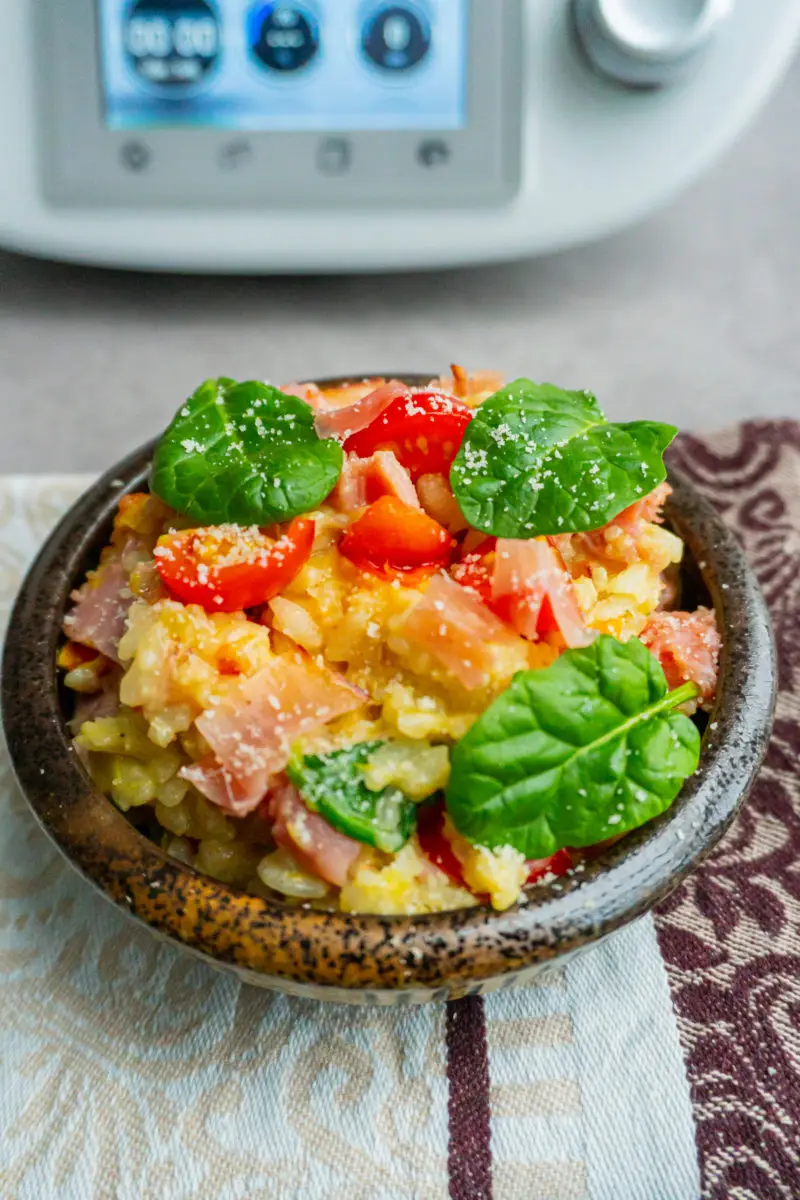 Good to know:
Not every type of rice can be used for risotto. There are special shapes that are more suitable for cooking a delicious ham risotto than others. The main factor here is the starch content in the rice grain. By the way, it tastes best when you use real vegetable or meat broth instead of instant broth. This gives your ham risotto a fresher touch. It will be a meal for the whole family!
Pro Tip:
Your ham risotto will taste even better if you grind the parmesan cheese fresh, so it can develop its full aroma. Don't yet know how to do this in the Thermomix®? Then have a look at the Parmesan grate option in the Thermomix®. Here you will be explained how best to do it. We'll also show you here how you can cook other types of rice in the Thermomix®.
Here are the recipes for:
The best Thermomix® Pizza Dough
Pancake Base Dough from the Thermomix®
Thermomix® Ham Risotto
You will succeed with this delicious ham risotto recipe in the TM31®, TM5® and TM6®, without burning. Promise!
Ingredients
80

g

Parmesan

4

garlic clove

100

g

leek

40

g

butter

300

g

risotto rice

900

g

vegetable broth

30

g

spinach leaves

200

g

cherry tomatoes

200

g

Parmaschinken

20

g

Fresh cream
Instructions
Put the parmesan in the mixing bowl, grate for 10 seconds / speed 10 and set aside.

Peel the garlic, add to the mixing bowl and chop for 6 seconds / speed 6.

Wash and clean the leek, cut into fine rings, add to the mixing bowl with butter and sauté for 3 minutes / 120 ° C (Varoma) / counterclockwise rotation / speed 1.

Add rice and steam for 3 minutes / 120 ° C (Varoma) / counter clockwise / speed 2.

Add the vegetable stock and simmer for 15 minutes / 120 ° C (Varoma) / counter clockwise rotation / speed 1 without the measuring cup inserted.

In the meantime, wash and clean the spinach. Wash and quarter the tomatoes. Cut ham into strips.

Put 60 g Parmesan with the remaining ingredients in the mixing bowl and simmer for 3 minutes / 120 ° C (Varoma) / counter clockwise / speed 2.

Mix the risotto in the mixing bowl with the spatula.

Serve sprinkled with the rest of the parmesan.
Notes
Tip: A ham-free vegetarian version of this risotto still works great. 
Nutrition facts
Serving:
1
Portion
Calories:
596
kcal
Carbohydrates:
75
g
Protein:
29
g
Fat:
20
g
Saturated Fat:
10
g
Sodium:
2293
mg
Sugar:
10
g
Vitamin A:
2141
IU
Vitamin C:
7
mg
Calcium:
273
mg
Iron:
5
mg