Boring coleslaw was yesterday's news. Today, we present to you the ultimate Coleslaw from the Thermomix® with a fine topping of crispy honey bacon cubes.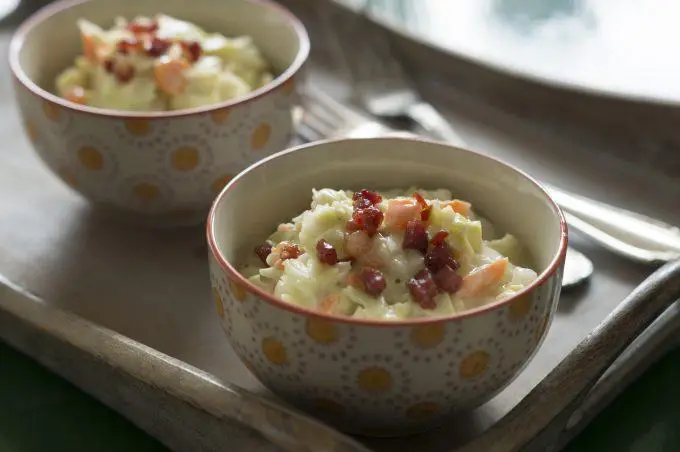 This delicious Coleslaw recipe for the Thermomix® is the secret salad weapon for barbecue parties.
In its homeland of Ireland, England, Australia and the USA, our coleslaw, whose dressing consists of a base of mayonnaise, is mainly served with grilled or fried food. In the southern states of the USA, by the way, coleslaw is very popular. It is favorited as a bread topping, or on sandwiches and burgers.
We knew a wonderful homemade version must be possible, and so, we adapted an alternate version to the famous KFC coleslaw. Our salad dressing is seasoned with a fine horseradish note and sprinkled with crispy bacon tossed in honey. This harmonizes perfectly with the mild, sweet and sour taste that the original KFC recipe brings. Our salad goes down especially well as a bring-along at barbecues or picnics. With this coleslaw, you will certainly be a welcomed guest. 😉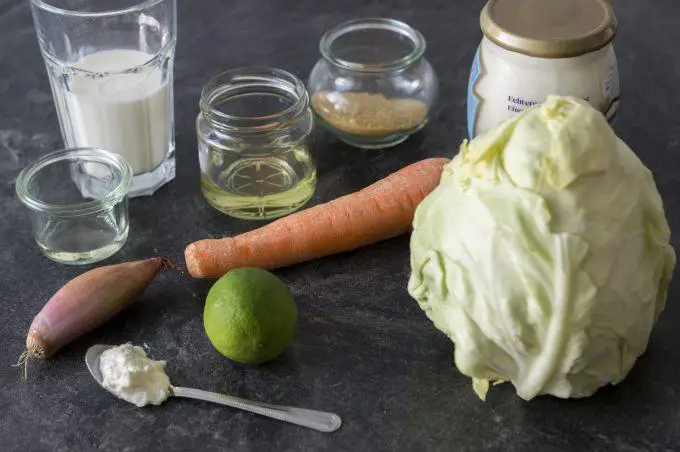 How to make coleslaw with the Thermomix®:
Cut the cabbage into the right size (about 5 x 5 cm pieces). Using the Thermomix® spatula, the Thermomix® shreds the cabbage and carrots with ease. We put the vegetables aside after shredding and continue with mixing the salad dressing in the Thermomix®.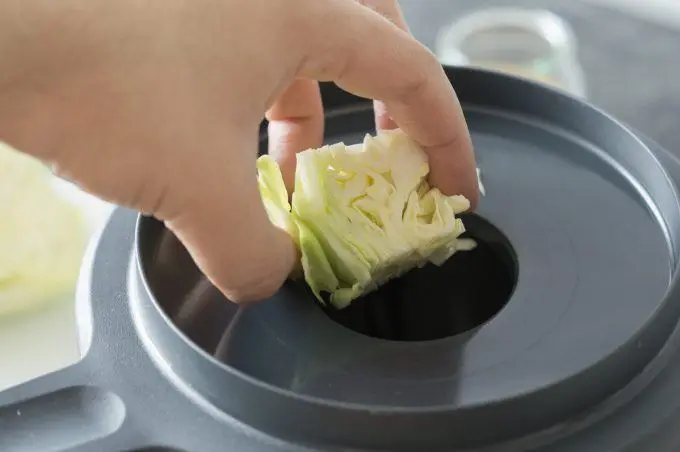 The salad must be marinated for at least three hours. However, it is better if you let it sit overnight, as the consistency and taste will then be even better. Remember to stir the salad well before serving!
Watching your diet and want a lighter coleslaw? Try replacing all or part of the mayonnaise with yogurt (skim milk yogurt or plain yogurt). If you also want to replace the sugar, go for stevia or Xucker Light (erythritol). Also suitable for a slim waist-line is our raw broccoli vegetable salad from the Thermomix®.
By the way: 200 g of white cabbage packs 94 mg of vitamin C which covers almost all of the daily requirement.
Even better, here are delicious barbecue rolls that go perfectly with this coleslaw from the Thermomix®. The rolls surprisingly can be kneaded very quickly in your Thermomix®.
If you like this salad, be sure to check out our Bavarian cabbage-salad!
Thermomix® Coleslaw with Honey Bacon
This is what coleslaw should taste like!
Ingredients
1

shallot

450

grams

white cabbage

100

g

carrots

180

g

mayonaise

50

g

rapeseed oil

10

g

white balsamic vinegar

40

g

milk

100

g

buttermilk

10

g

lime juice

50

g

brown sugar

1

TL

creamed horse raddish

1/2

TL

salt

1/4

TL

black pepper
Für das Topping
oil

for the pan

150

g

diced bacon

1

TL

honey
Instructions
Peel the shallot, add to the mixing bowl and chop for 3 sec./speed 5.

Wash and clean white cabbage, remove hard stalk and outer leaves. Cut into pieces (max. 5 x 5 cm pieces). Peel the carrots, cut into pieces and add with the cabbage to the mixing bowl. Shred using the spatula for 18 sec./speed 4 and transfer to a salad bowl. 

Add the remaining ingredients to the mixing bowl, blend for 15 sec./speed 4 and mix with the lettuce in the salad bowl. Leave to marinate, covered, in the fridge for at least 3 hours, or preferably overnight.

Meanwhile, fry bacon cubes in pan until crisp, turn down temperature, drizzle honey on top, stir and spread over salad before serving.
Notes
Tip: It is best not to use salad dressing or light mayo for the preparation. Instead use real mayonnaise, such as our homemade mayonnaise from the Thermomix®. 
Nutrition facts
Serving:
1
Portion
Calories:
573
kcal
Carbohydrates:
26
g
Protein:
10
g
Fat:
49
g
Saturated Fat:
7
g
Sodium:
897
mg
Sugar:
21
g
Vitamin A:
4373
IU
Vitamin C:
44
mg
Calcium:
107
mg
Iron:
1
mg